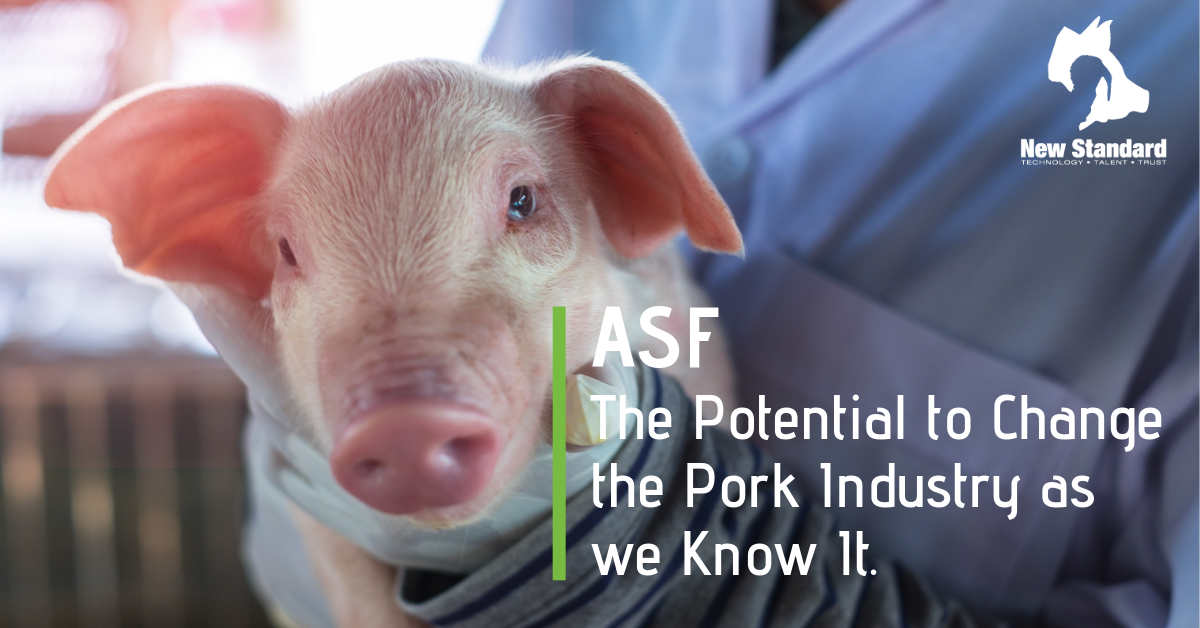 ASF is the buzz right now and has been for a while, and for a good reason. The devastating disease could alter the course of pork production as we know it.
Recently we came across a report from INTL • FCStone, a group of companies that provide financial services worldwide. The report is titled, Chinese Pig Epidemic Poised to Reshape Global Trade, and is quite the eyebrow raiser.
If you'd like to read the full report, you can find it here. If not, we've pulled some interesting thoughts from the article, with our opinions added.
We'd also love you to weigh in if you have thoughts on this matter. No one knows what will happen, but we believe this speculation is worthwhile.
Disaster May Reshape Global Trade
"Although ASF poses no threat to human health, it represents a twofold challenge to the global economy. First, pork is far and away the dominant meat source in China. It makes up 3% of the country's consumer price index and is the number one driver of food inflation. As the industry declines, it will have far-reaching effects on the world's second-largest economy.
Second, China's preference for pork makes it the world's largest hog consumer, with a market share of 49%. The country is also the largest importer of soybeans, a primary protein source for hog farming. Consequently, the faltering of the Chinese pork industry will reshape global trade in both meat and feed grains.
For American farmers, the latter would mean a significant reduction in soybean exports, even if trade talks with China lead to a lowering of tariffs.
"To stay in tune with the market, US farmers need to cut the acreage they're devoting to soybeans drastically," says Arlan Suderman, Chief Commodities Economist for INTL FCStone Financial Inc. "As of yet, it's not happening. The USDA's planting report in March confirmed a big soybean crop."

The fact that this is a two-fold problem is not getting much attention yet. The decrease in the hog population will directly affect the amount of feed needed.
Large Pork Purchases on the Rise
If the official government stance is less than transparent, Chinese activity in the US market indicates that Beijing is grappling with a significant challenge.
In March China made a major purchase of nearly 27,000 metric tons of pork, as confirmed by the USDA, despite a Chinese tariff of 62% imposed last year on imports from the US. The purchase helped to send US hog futures soaring nearly 43% higher on the Chicago Mercantile Exchange. Subsequently, the USDA confirmed that China purchased an additional 77,730 metric tons in early April.
More imports may be on the way. A March 26 Bloomberg report predicts the Chinese may purchase as much as 300,000 additional metric tons in 2019, an estimate that may prove to be quite conservative, based on expected production losses.
China is also working to lift tariffs against Brazil and France to free up poultry imports from those countries.
And there are other indications of the epidemic's impact. INTL FCStone's sources have reported that pork prices are rising significantly in China. Moreover, meats that serve as an alternative to pork, such as chicken, lamb, and beef, are seeing even sharper price hikes."
Mass purchases on the rise should be a fairly obvious sign things are not going well….
Perfect Storm
China is working on stemming the tide of this epidemic as Beijing has instituted several measures.
However, the Chinese have a poor record of controlling livestock disease, according to Liz Wagstrom, the chief veterinarian at the National Pork Producers Council. In an April 8 UPI article, she noted, "They've had foot and mouth disease in China for 30 years. They also have something known as pseudorabies. Those are diseases we have a vaccine for, and they haven't been able to control them."
Only a tiny amount of the virus is needed to infect a herd, and once infected, typically 90% of the animals are killed by the disease, which causes internal hemorrhaging and organ failure. The few pigs that survive become carriers.
If China hopes to ever get a handle on ASF as well as other diseases, they would need to see a complete shift to large scale commercial farms that are better suited to implement biosecurity protocols. Unfortunately, Chinese geography is such that a significant portion of the population does not have the means to purchase food and must raise it themselves. (For further reading, The Accidental Superpower by Peter Zeihan has chapters on China that explain in great detail why China will likely never shift away from backyard farms.)
Efforts Falling Short
Collaboration is a good thing, but it may not be enough to stop ASF before it takes hold.
The spread of ASF has brought together the top 50 pig farming and pork manufacturing firms, normally bitter rivals, to coordinate efforts in combating the outbreak.
Last October, the USDA granted Zoetis Inc., the world's largest producer of medical treatments for pets and livestock, an exclusive license to develop an ASF vaccine.
While these measures are encouraging, the consensus among industry analysts is that a vaccine is years away.
The Ripple Effect
"There is a joke in China that one person can eat a whole pig every year," says Youwei Yang, Market Intelligence Analyst with INTL FCStone Financial Inc. "But it's almost true. The annual per capita consumption there is 160-170 pounds of pork, which is by far the most popular red meat. Lamb has a strange flavor that some southern Chinese don't like, and beef is either not readily available or too hard in texture."
Whether China will develop a preference for other meats, or be willing to fork over more yuan for imported pork, remains an open question. What can be known is that eliminating half of the world's supply of pork, which China roughly produces every year, or even a sizable portion of it, will leave a huge gap in the global protein trade. As with other market shortfalls, the forces of supply and demand will undoubtedly come into play through price hikes, production increases and the development of new sources of production, all of which would reconfigure trade flows.
"We're anticipating that it will take 5-7 years to rebuild the Chinese hog industry," says INTL FCStone's Suderman. "Over that period of time, a lot of meat production will shift to other parts of the world, with the greatest beneficiaries likely to be North and South American producers."
One immediate impact has been the windfall market for American pork noted earlier. However, as the USDA has pointed out, even one case of ASF found in the US would undercut the rally and make a significant dent in a $20 billion industry that employs over 500,000 workers.
As opined earlier, it is unlikely that China will ever be able to fully recover from ASF for the same reasons they haven't been able to eradicate pseudorabies or foot and mouth disease. Even if a vaccine is developed, China will struggle to disseminate the vaccine to the areas most at risk which is the backyard with a small number of pigs that are fed with whatever food is available.
ASF is Like Nothing We've Seen Before
But stopping entry of the disease could well be impossible. Every week, it seems, ASF shows up in new countries, such as Japan and Cambodia in early April.
"The US industry is no longer talking about if but when," says INTL FCStone's Suderman. "They're hoping a vaccine is developed before it gets here."
The US livestock industry has weathered other epidemics before, such as the PED (porcine epidemic diarrhea) virus, which was discovered in Europe and migrated to parts of Asia before arriving in the US in 2013. Like ASF, PED is highly infectious, and when it took a major toll on US herds, it roiled the domestic pork market. But PED is nothing like ASF, according to Suderman.
"With PED, the pork industry was able to develop a working vaccine after it struck US herds. And the PED virus is not as long-lived as ASF, which gave us an edge in containing it. Hog farmers learned how to isolate the virus and sterilize barns. By comparison, ASF is much harder to control. I can't think of any other disease in modern livestock history that can compare to it."
Societal Changes on the Horizon
"When you take that much food out of the world's most populated country, you're going to change politics, you're going to change social behavior, and you're going to change economics," Suderman notes.
Within the Chinese hog industry, the epidemic will almost certainly accelerate the decline in small-family farming, sending more people to the crowded, pollution-clogged urban centers.
From there, it's anyone's guess how the ASF scourge will play out beyond the immediate industries involved. But as it continues to rage, governments and markets would do well to prepare for a world starved of Chinese pork. With that prospect, change will be on the menu, and it could mean any number of adjustments, from higher protein prices to enhanced political tensions to greater competitiveness among the world's economic blocs.
Peter Zeihan offers a counterpoint that would suggest a faltering Chinese economy and an aging demographic may soon drive people back to the small interior farms reversing somewhat the Chinese migration to the cities. We'll leave it up to the reader to decide which viewpoint makes more sense.
Ultimately, nobody really knows how things will shake out over the next few years but one thing is certain: China will need to greatly increase the amount of protein that they import. With such a significant and large increase in global demands, protein and specifically pork prices should remain strong for quite awhile.
---