It's not an opinion, it's a fact: everybody loves bacon. It's a wonder food that can make pretty much any meal you make at home better, but it's rarely the main attraction. That's not true at fairs. State fair season is here, and we did all the research for you so you can go directly to the best bacon booth!
Iowa State Fair (August 10th-August 20th)

Pancake Taco
This delicious breakfast taco is a pancake filled with scrambled eggs, cheese, sausage, and bacon, drizzled with syrup. It's available for only $4.50 at The Bird's Nest Beer & Food near the Mid-American Energy Stage.
Bruschetta BLT
Everybody loves bruschetta and everybody loves a BLT. Why not mix them together on one beautiful baguette? Parlo Pizza did. You can find Parlo Pizza on the hill by Grandfather's Barn!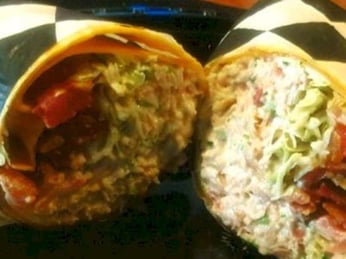 Mig's Hickory Smoked Chicken BLT Wrap
What is better than diced smoked chicken, shredded iceberg lettuce, diced tomatoes, crispy bacon bits, celery, chopped herbs, tossed in a creamy bacon dressing and all wrapped up a yummy tortilla? Nothing. The answer is nothing is better than Mig's Hickory Smoked Chicken BLT wrap. Get your hands on one for $9 southeast of the Varied Industries building!
Go-To Bacon Location: All Wrapped Up In Bacon
All Wrapped Up In Bacon is your one-stop bacon shop! They have something for each and every person you're with, from bacon cheese fries to bacon on a stick; following their namesake, they wrap chicken, hot dogs, and jalapeños in bacony goodness! All Wrapped Up In Bacon is located in Thrill Ville East of the Grandstand.
Minnesota State Fair (August 24th-September 4th)

Bacon Fluffernutter
New to the fair this year, the bacon fluffernutter is a grilled cinnamon bun filled with bacon, peanut butter, and marshmallow cream! Get this goodie at The Sandwich Shop, located on the west side of Clough street between Carnes and Judson avenues. A must try!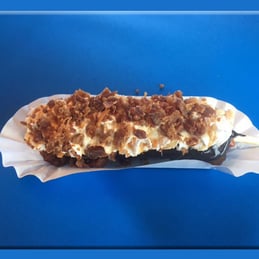 Bacon Up Pup
Get on over to Granny's Kitchen Fudge Puppies and get yourself this delicious Belgian waffle. There's bacon in the batter, it's dipped in chocolate, drizzled with maple syrup, topped with whipped cream and bacon. Plus it's served on a stick—a fair food must! Granny's is on the east side of Underwood street between Dan Patch and Carnes avenues, right outside the food building!
Duck Bacon Wontons
Unlike other types of poultry bacon, duck bacon is is almost identical to bacon made from pigs! At Giggle's Campfire Grill—located at The North Woods on the southeast corner of Lee avenue and Cooper street—they deep fry crescent-shaped wontons that are filled with duck bacon, grilled sweet corn, and cream cheese! They're served with their special dipping sauce.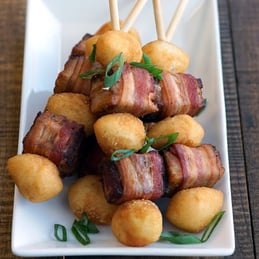 Swine & Spuds
The only problem with this creation is the need to try it with all three of their toppings: homestyle gravy, Korean Bulgogi barbecue sauce, or sweet chili sauce! These skewers have pork belly wrapped in bacon and mashed potato croquettes. Fine Swine & Spuds in the northeast corner of the Warner Coliseum.
Go-To Bacon Location: Big Fat Bacon
Big Fat Bacon only has one thing: bacon on a stick. (and some water to quench your thirst afterward). While they don't have a lot of options, what they do they do well. Each stick has a quarter pound of maple-glazed bacon and is dusted with their special seven-spice blend. Big Fat Bacon can be found on the South side of Dan Patch avenue between Nelson and Underwood streets.
---

Check out our Summer Picnic BLT Recipes!