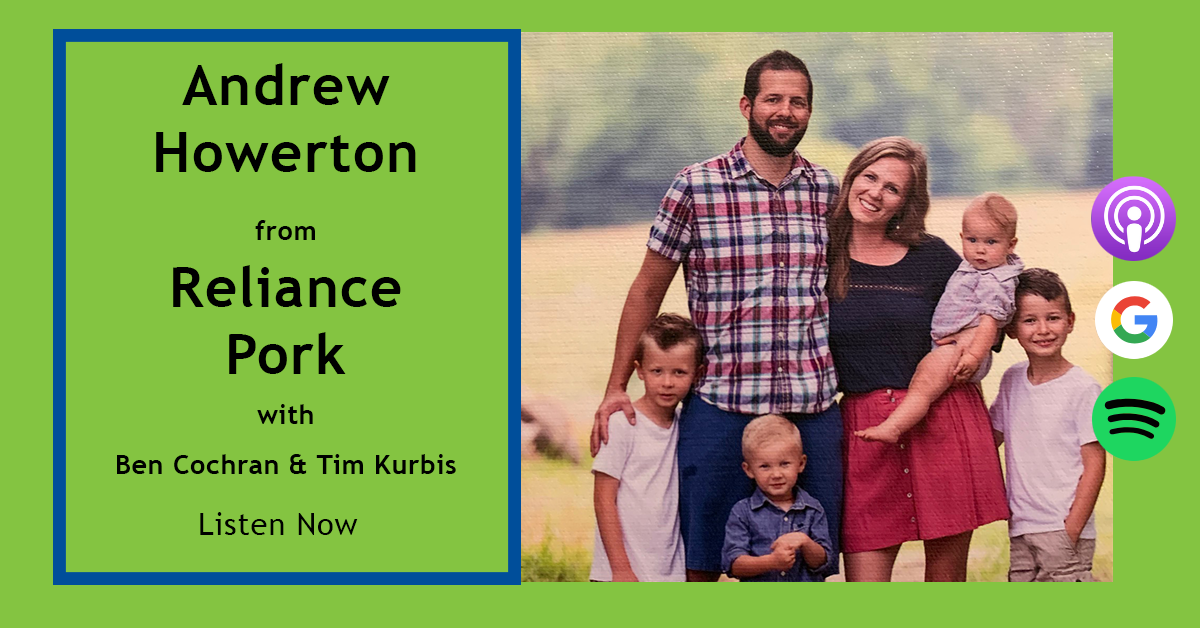 Good Day!
Welcome back to the Modern Producer Podcast. Today we have a great episode for you with some new voices. We welcome our own Ben Cochren to the podcast as he interviews our special guest, Andrew Howerton of Reliance Pork in Blairstown, MO.
Ben and Andrew go way back and the story of their reconnecting is worth the listen on it's own. Andrew is the Production Manager at Reliance Pork and shares his story of growing up on the farm, leaving for a season and returning to the operations.
From leadership tips and insights on managing a larger barn team, Andrew has a lot to share about his experiences. Don't miss the end of the episode where Andrew shares his, must read books in regards to business and management.
We hope you enjoy this episode as much as we did.
---
WE WANT YOUR QUESTIONS! The guys would love to hear from you, comments on topics or questions, doesn't really matter what, give us a shout! Lots of ways to get-in-touch.
Record a message! You might make the show! https://anchor.fm/the-modern-producer/message Send us an email - Tim@NewStandardUS.comor Kevin@NewStandardAg.com Give us a call! Tim 605-496-9696 - Kevin 204-485-4600
---
//The Modern Producer is a podcast focused on animal husbandry, mainly focused on Pigs, and Turkeys. In each episode, we discuss current trends, technology, and research. We invite you to join our discussion at newstandard-group.com. Please also check out our bi-annual publication, The Modern Producer and themodernproducer.net //


To reach New Standard Group about your Hog Barn Design and Equipment needs or Turkey Barn Ventilation needs - please visit
www.newstandard-group.com
---
We look forward to your feedback and comments.

Check out the Modern Producer at any of these sources! Make sure you subscribe, so you don't miss an episode.



We'd love to hear from you. If you have any topics or ideas you want to listen to us discuss. Please send us a request, or comment below.