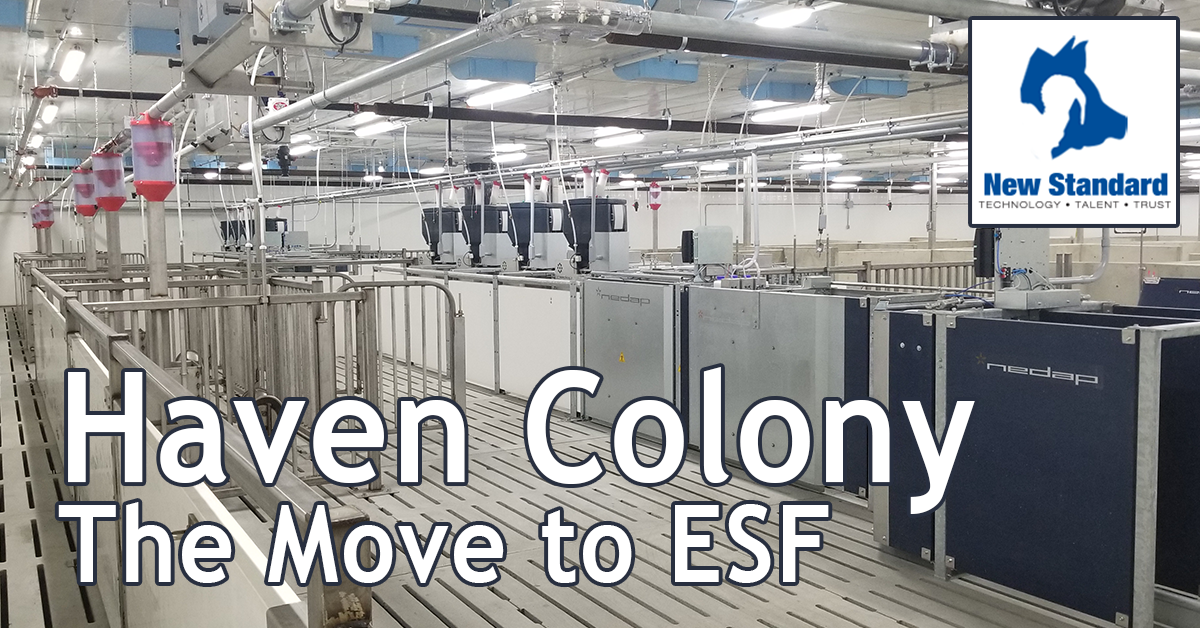 Haven Colony is located in Fox Valley in Southern Saskatchewan, Canada. At the end of January, 2014, Terry Mandel and crew took over the hog barn from two gentlemen who were retiring. "Before hog farming I grew up on the field, and I was voted in to run the pigs, it was a really big change, but I love working with pigs." say Terry.
Our Farm
Terry Mandel over sees breeding, gestation and gilt development. Terry, along with two others run the day to day operations.
"Our farm is anywhere from 550-580 head, farrow to finish. We have three barns, each managed by one guy, and we cross over as we all need assistance or help. We make all our feed, and we run boars, no AI." recited Terry.
When schools out, Terry is often joined by his 11 year old son, Jared. "It's a family operation, very rewarding. Everyday you see results and try to get better, challenging but rewarding." states Terry.
On July 3rd, 2018, Terry began to move his first set of sows into their brand new ESF (Electronic Sow Feeding) barn. Was it going to work? How long would the adjustment take? How would the animals be affected? All these questions and more were swirling around in Terry's mind, stacking up to a sleepless night or two. "I'm not kidding when I say I lost sleep," recalls Terry.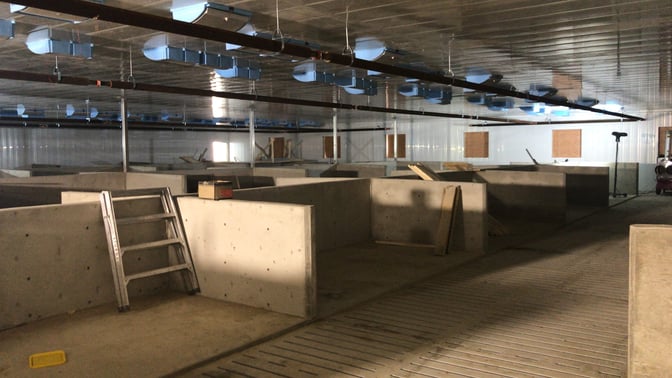 Getting Started
A couple years after taking over operations, Terry had began the search for a barn-builder and equipment supplier for their new barn. "The old barn was too old even for a remodel, and at the end of the day, we knew the sows weren't as comfortable as they could be," said Terry.

Terry knew they would be moving to loose sow design with ESF (Electronic Sow Feeding), it was just a matter of choosing the right partner to make it happen, "Initially I had another builder in mind, so I went to visit a barn they had done. I learned at the visit they had been running over a year, and still ironing out problems, I knew that would not work for us," said Terry, "That was when we got in touch with Kees at New Standard."

"Kees and I went back and forth quite a bit, and the more I learned about New Standard and the equipment they used, the more I was sold," said Terry. "The things that pushed me over the edge on making the decision was talking to a nutritionist, and learning how the feeding layout is superior, and second, how available Kees was. When I had a question, he was there."

The barn design and building process were smooth and very customizable. "We saw another barn with a training station and decided to have it incorporated. It was no problem."

"Everything was on schedule and on time. All the equipment arrived when New Standard said it would; there were no major delays in our build."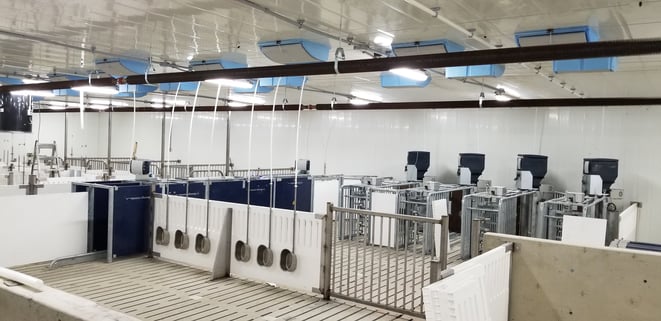 The Naysayers
From the beginning, when Terry started talking about their new barn and system, he was often confronted and overwhelmed about how it was NOT going to work. "The biggest issue in this whole project was the naysayers. It made me nervous because so many people said going from stalls to loose housing would not work," recalled Terry.

"Many professionals said I should have pails on hand for feeding, and a backup plan because this was not going to work."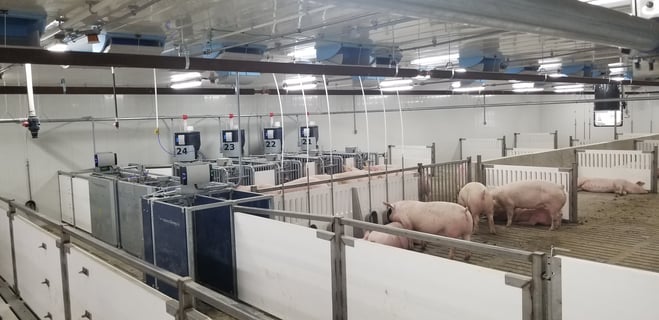 The Move
So the day came to move the sows into their new home. "I started slowly with eight sows, maybe took two hours before they had all gone through on their own. It was brand new, so I was expecting it may be slow. The second group, I did 12, it took all of twenty minutes. I did not have to cull one sow. I just showed them where the feed was, and that was it." exclaims Terry. "I am not sure what systems the naysayers were using, but in my experience with a proper barn design, and New Standard's choice of using Nedap equipment, it was a dream!"
"Then we moved 100 sows in, we only needed to show the first half, or so, the rest caught on. It is a dream, really."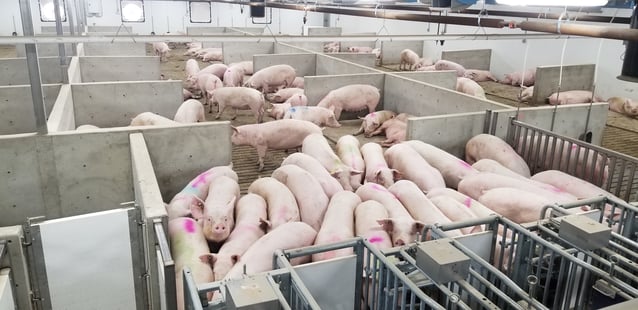 A Year and a Half Later
"Everything is going great and better!" exclaimed Terry. "Shortly after opening up the new barn, we had a visit from our vet. He had not been in a loose sow housing setup in over 30 years. He could not believe how calm the animals were, not getting spooked, and he cannot believe this new system."

Since getting the new barn set up and running, Terry has only needed to make small adjustments to get everything dialed in. "We are weaning more pigs, our farrowing rate came up quite a bit, and the sows conditions are excellent."

Not only are they farrowing more, but their piglet birthweight also has moved from 1.3kg to 1.56kg with ESF (Electronic Sow Feeding).

The scales made a massive difference in dialing in feeds, and getting diets to perfection. "Usually, in about a week's worth of data, we can see where there are issues and make adjustments," states Terry.
The equipment used is new and unique. Sow weights are daily recorded, so Terry knows exactly what his sows condition is. Haven Colony is one of the first to have sow weighing added to the ESF.

Their mortality rates has also dropped by 2%. This statistic is a real indicator of how healthy their sows are now, compared to that old stall barn setup.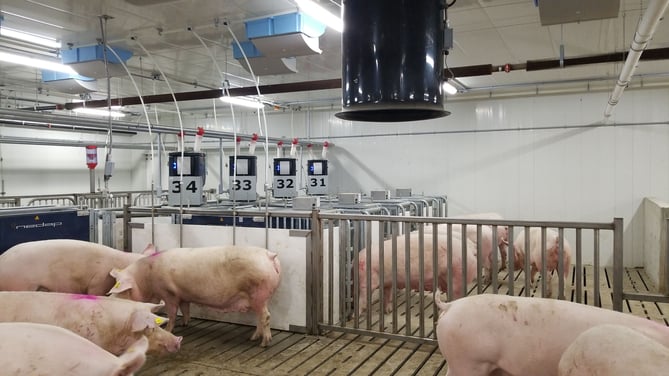 Why New Standard
"Service," said Terry. "I don't know how others work, but I guarantee you that service New Standard provided is second to none. I make a call, and they are there, the services are unreal with those people!"
---
**This project was completed with help from local equipment dealer Western AG Systems.
---