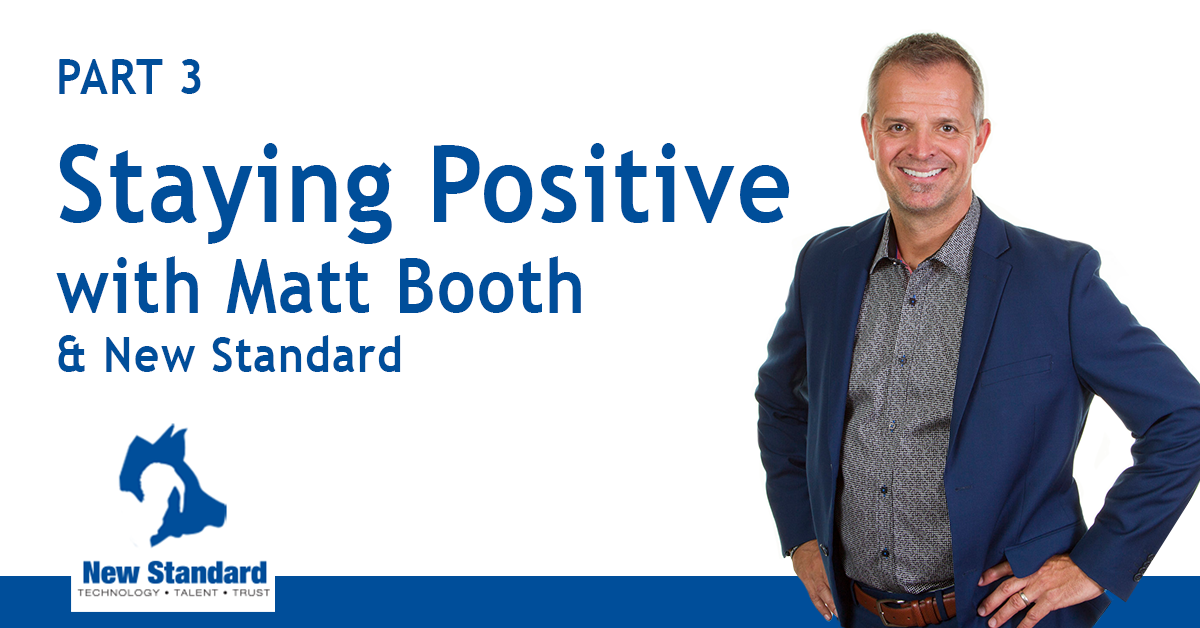 Tim and Kevin had a chance to sit down with certified speaking professional
Matt Booth
. His talent is connecting humor and quick wit with people to create positive attitude changes. In this 3-part blog series we break down some of the key points Matt discussed with Tim and Kevin.
In our previous parts of the series we have discussed: Navigate Negativity, Energy and Engagement. Today we discuss the fourth and fifth steps, Direction and Source of Power.
Direction is the Motivation for Change
You start to understand your direction in life, by setting up goals.
"When it comes to goals, you have to write them down," states Booth. Reviewing goals monthly can help to keep things fresh.
Taking 10 minutes each month to review your goals is best. Booth suggests carrying those goals with you. "Goals are like having a GPS, you wouldn't travel across the country without it. You might know the general direction, but you will get lost at some point."
What kind of goals do you carry along?
For Booth, who has been carrying his goals around for 30 years in his pocket, states many people get overwhelmed with the concept of goals. It's not something that is instantaneous, and if you want proper goals, you'll have to put in the time. "The process is to take time, sit down and write it out."
Then you have to go through the questions:
Why do you want to do that goal? Ask why at least three times on the previous answer to why until you drill down to the ultimate motivation.
How do you plan to accomplish that goal? Again, ask why multiple times on the same question.
How specifically are you going to accomplish that goal? We're being repetitive we know...ask why, again and again.
The reason to question is to dig down and discover the real why. There is always a bigger why to the goal that is being set.
Booth talks about having a chat with his pastor about losing weight. After further questioning, digging into the deeper reasons why, it became clear. "He wanted to be around to see his grandkids",
True motivation will help set those goals in place and lessen the overwhelming feeling. Drilling down the whys and hows of the goals will help create action steps to accomplish those goals.
"In the end," states Booth. "It all comes down to finding the true motivation."
Booth takes it a step further with the ultimate step: Source of Power.
Source of Power, what does it all mean?
All of these steps are great for making that forward motion to positive thinking, however, where does the power come from? How do you stay motivated through the process?
"We all need a power bigger than ourselves to get through life," Booth states. He openly discusses his Christian faith, and how people need to find something to believe in.
Addressing Source of Power
Both Tim and Kevin were curious how people respond to this step. Booth happily indulged. "I pray for those people in that room, before they show up. Going to each chair to pray, and to pray that God uses me. Booth states, "When I say that in front of a group, it has been pretty powerful." People come up and discuss that with him, which opens up the conversation for others to find their source of power. Booth stresses that God might not be the correct way for everyone, but it is correct for him personally.
No matter what you believe, having something to lean onto during those struggles in life can lend to positive attitude changes. Combine the Source of Power with the previous steps discussed in this series, can help redefine lifestyle choices.
To hear more on what Matt Booth has to say, please consider subscribing to the Modern Producer Podcast, for more content like this.