Canadian pork production is undergoing a lot of changes as a result of the National Sow Housing Conversion Project. The NSHCP is a collaborative research project that was developed to share information with producers, and ease the transition to group housing by providing education and research on best practices. Dr. Jennifer Brown is the project leader of the NSHCP and she and her team are working on the front lines with these producers. Over the next few months we will be exploring some of Dr. Brown's work. Learn more about her background and research below.
What is the NSHCP?
The NSHCP was formed in 2014 as a collaborative research project that diseminates the latest research on various aspects of group sow housing conversion projects; helping producers effectively navigate the changing industry.
This project was formed as a response to the Canadian Code of Practice for the care and handling of pigs, which lays out the expectation that all Canadian producers move to group gestation housing by 2024. In addition to this goal, the Code also requires that, from 2014 on, all new buildings and renovations must accommodate sows in groups during gestation.
NSHCP performs their work through the Prairie Swine Centre, a non-profit affiliated with University of Saskatchewan. Their mission is to build a profitable and sustainable pork industry in Canada. A big part of this is ensuring that pork producers understand what is required of them under the Code of Practice, and have access to information about how to efficiently implement new systems.


Meet Dr. Jennifer Brown
Dr. Brown received her PhD from the University of Guelph (the U of Goo) in 2009, her research was in the connection between behavior, animal stress and meat quality in market pigs. Dr. Jennifer Brown is the lead Research Scientist in Ethology at the Prairie Swine Centre and the project leader for the NSHCP.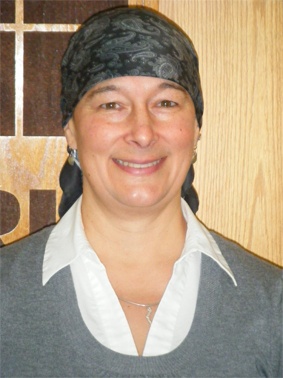 She is also an adjunct professor at the University of Saskatchewan, teaching animal behavior and welfare in the Department of Animal and Poultry Science.


Her Current Work
Dr. Brown's work with the Prairie Swine Centre aims to make the change to loose sow housing a bit easier by conducting in-depth studies on all aspects of the conversion.
Through her research at the Swine Centre, Dr. Brown looks at a wide variety of issues in pig production, including housing density in nursery pigs, ways of assessing and treating pain in piglets at castration, the effects of stressful transportation on meat quality, and optimizing sow gestation management programs. She was excited to talk with us about the results of her studies.
Over the next few weeks and months we will be exploring some of Dr. Brown's research and observations as she assists Canadian producers with their conversions to loose sow housing. Be watching for upcoming articles from Dr. Brown.