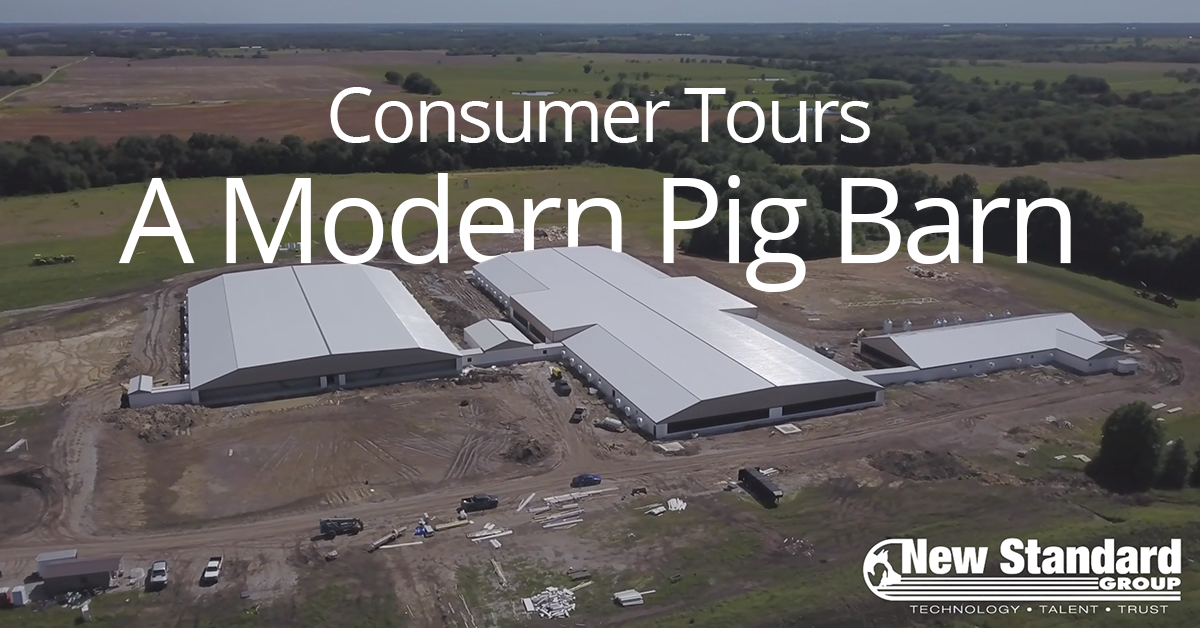 What comes to mind when you think of a barn? Well, if you are like me and don't work in a barn every day, or ever, you might say some things like hay, dusty, dark, dirty, and old. This June I had the chance to visit a brand new modern hog barn. It's safe to say my old thoughts about barns have been thrown out the window. Below I have simply outlined my impressions and experience as I explored Honey Grove.
The barn was just a few days away from seeing it's first pigs...
Overview
This project is a first for Grand River Colony as they are expanding their operations to hog production. Now hogs are nothing new for the Hutterites. Many of the men have experience in other colonies that have hog operations. While there are those that try to copy them, they are the ones that are have depth of knowledge that you simply can't buy or replicate.
Beyond that, Grand River also custom manufactures a hog sorting product for barns called ProSort. So to say they are newbies would be incorrect. This new barn is simply the final step to complete the hog farming circle for the colony.
Scale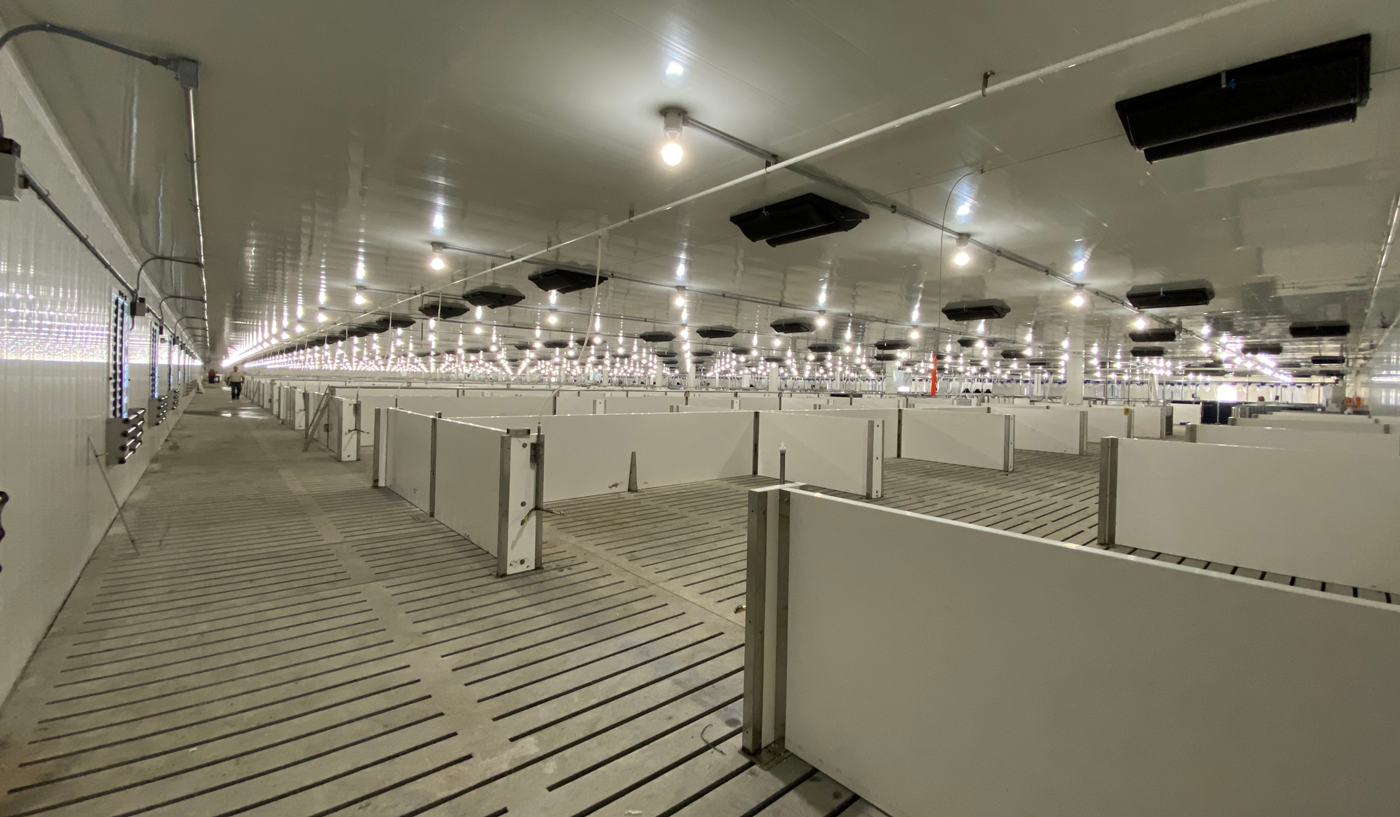 As we drove down the well-traveled gravel to the barn site, turning the corner around a grove of trees brought the barn into full view. It was huge. The scale and sheer size of the build were enough to say, "whoa."
As we navigated around concrete trucks and other heavy equipment, we approached the back of the barn's central section, where the sows spend their time.
After crossing over the temporary plywood bridge, I entered the barn. I had to let my eyes adjust a bit as I was surprised at what I saw. The room was huge - 160' x 412', to be exact. And bright, with modern LED lights, closely spaced, there was not a dark corner to be found.
Construction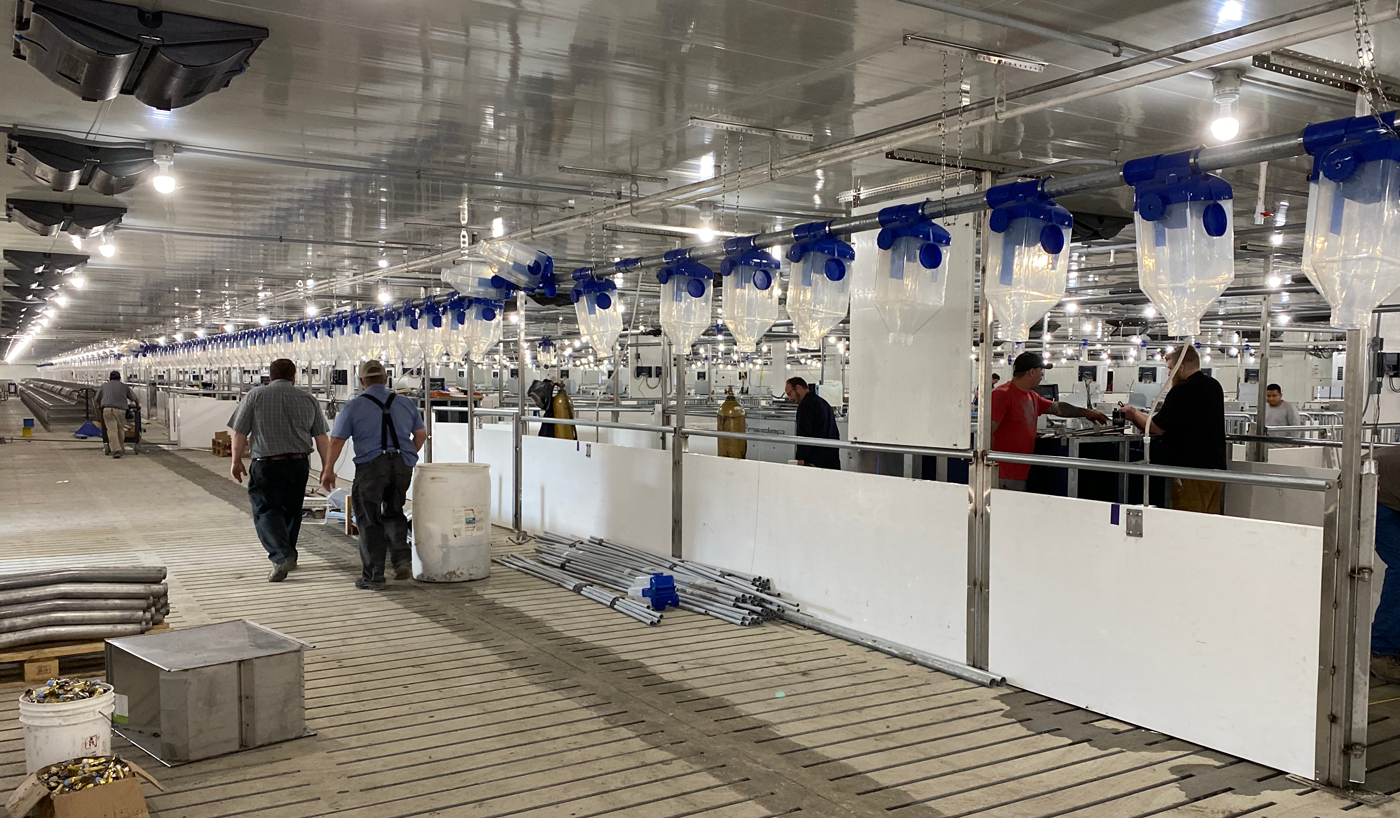 This barn has been in the works for a couple of years, but construction started in July of 2019. New Standard has been heavily involved from the early stages as well, helping with planning and layout decisions.
This barn was built to last a long time. More than once did the saying "100 Year" barn come up, meaning this thing should still be standing in 100 years! I'm not sure anything I've created will be around that long!
Grand River Colony has put everything behind this project and has taken a lot of pride in the construction. No expense or details had been spared from the beautiful location to the made-in-house stainless steel tubing for farrowing crates. It was stunning in its own unique way.
Technology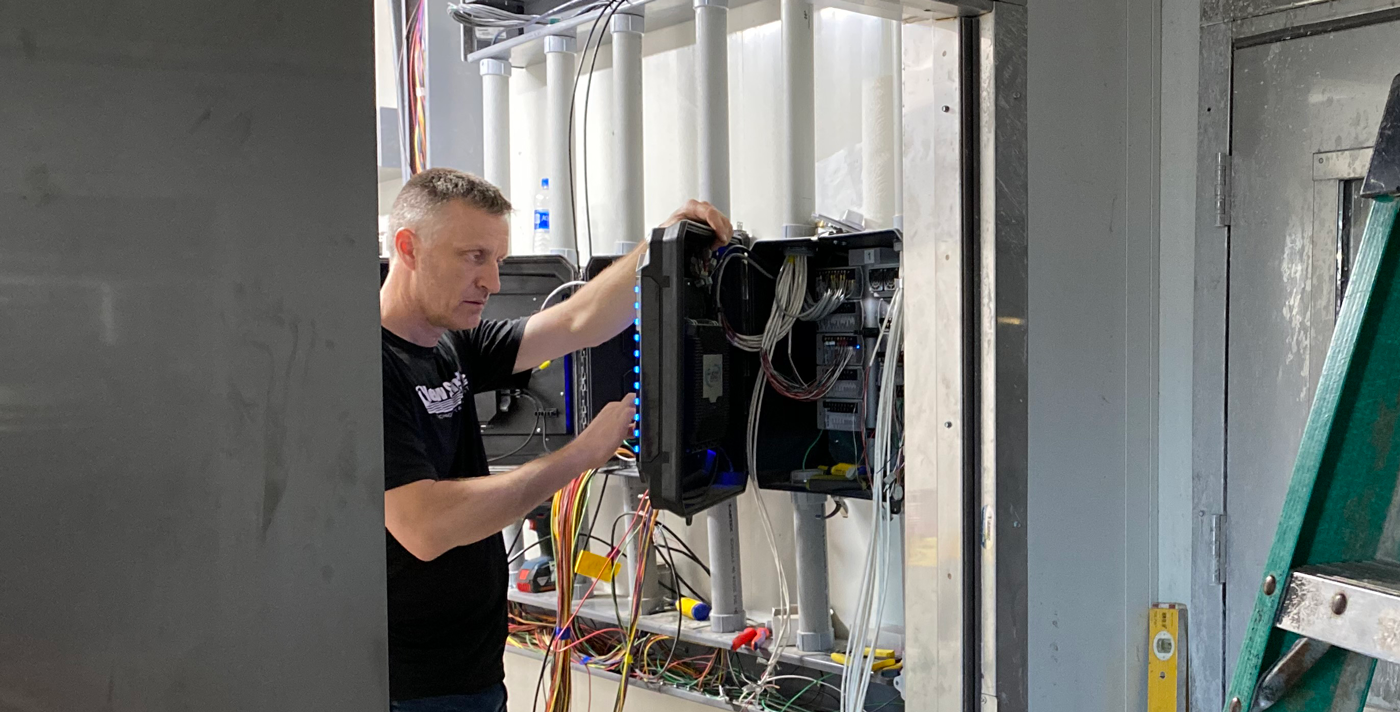 Beyond being built to last a lifetime, the barn is packed with the latest technology. New Standard Group has implemented all their knowledge and talent to design a barn that incorporates technology on a huge level. The main barn is designed up for automated electronic sow feeding or ESF. ESF is the latest in hog feeding solutions.
Each pig has its own RFID tag. Each animal will have a profile during its time in the barn, reporting on everything from weight, how often she is feeding, to when she is going into heat, even when she might be ill.
The pen is designed in a way that creates a natural cycle for the pigs. To put it simply, eat, socialize, sleep, and poop. If you want more details on how all this works, check out Tim Kurbis' pen tour video, as it's fascinating.
One feature this barn has is the way everything is controlled. Ultimately from one room, everything from feeding, to ventilation, to water, and lights, is all handled through one panel. And automation is king. Lights are on a schedule, feed distribution, alerts; it all comes through one box allowing the farmers to easily monitor everything, even from their couch at home, thanks to the internet.
Another unique feature New Standard incorporated, is the ability to monitor sow and gilt weights during gestation which is a great marker for health and feed budgeting. It's a feature that makes Nedap stand out because nobody else offers it. The RFID tags also control the feeding schedule and portions of the animals with precision. We know each girl individually in the gestation, breeding and farrowing so we can focus on her as an individual.
Animal Well Being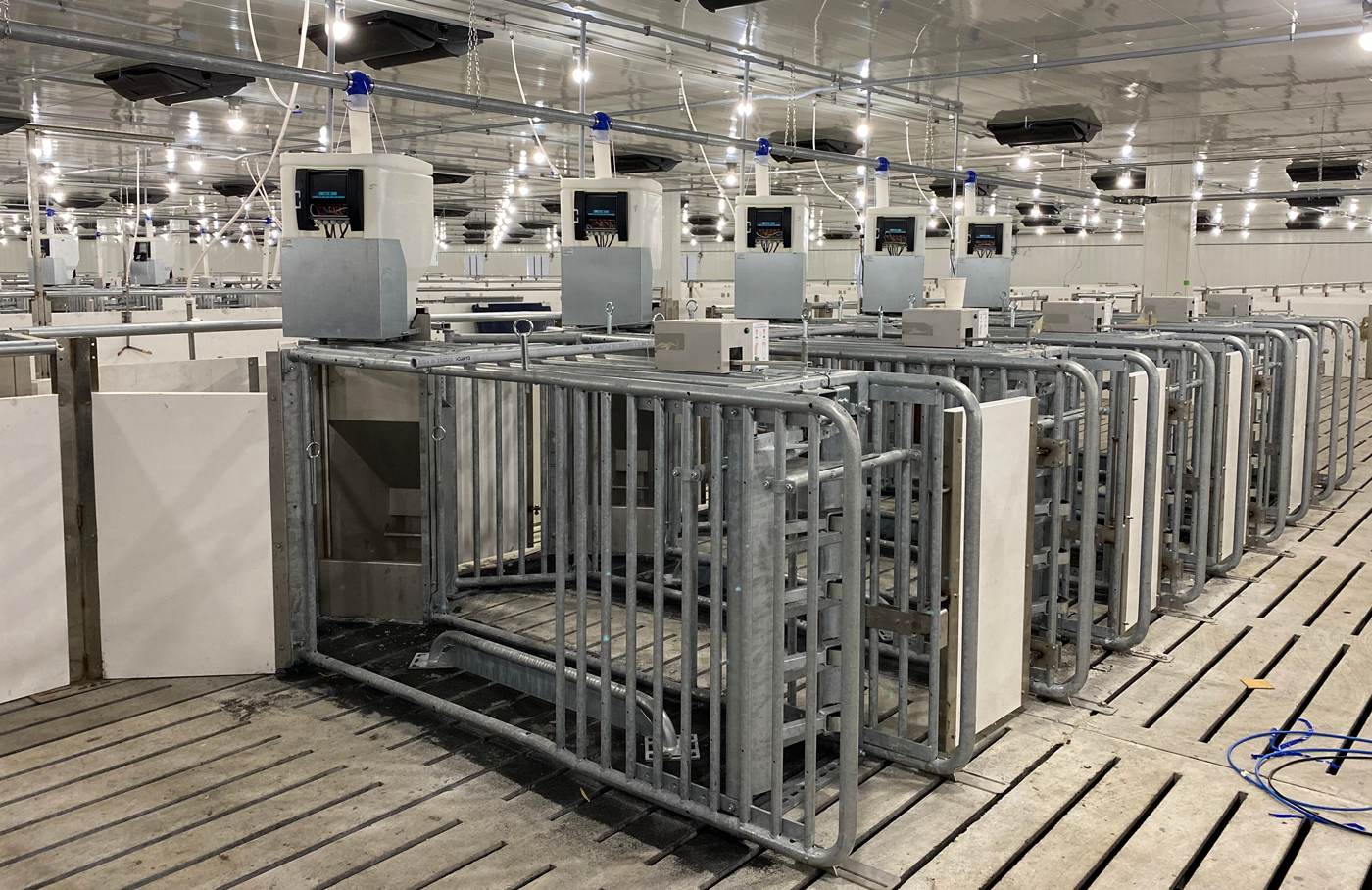 From the first moments stepping into the barn to my last few hours helping with some last-minute cleanup, it was apparent that all this effort, planning, and expense revolved around one thing, the pigs.
This is not some shack in the woods with a bunch of muddy pigs running around wild waiting to get loaded on a truck for the slaughterhouse. This barn and every detail are designed to ensure these animals have a happy, productive life.
The pens' planning wasn't a guess; New Standard Group has years of research and study of the sows to lean on, from their social habits, diet, and basic needs; they've thought of everything.
Beyond that, and what I find even more fascinating, is that this design, although made to handle hundreds on pigs, can also help the farmer move his/her focus to even a single animal as they have needs. The technology is not just making the farmers lives easier, it is making the animals lives better too.
Final Thoughts
I realized at the end of the day, raising these pigs is a for-profit gig. But, that doesn't mean these farmers don't care about these animals, in fact, quite the opposite. They care a lot. I'm sure that barns like this, technology like this, wouldn't even exist if they didn't care.
If you ever have the chance to tour a hog barn, jump on it. You won't be disappointed.
Next time you're enjoying your bacon at breakfast or a smoked pork loin, take a second to think about and be thankful for where this animal came from, chances are good it has been well taken care of on it's journey to your plate.
---