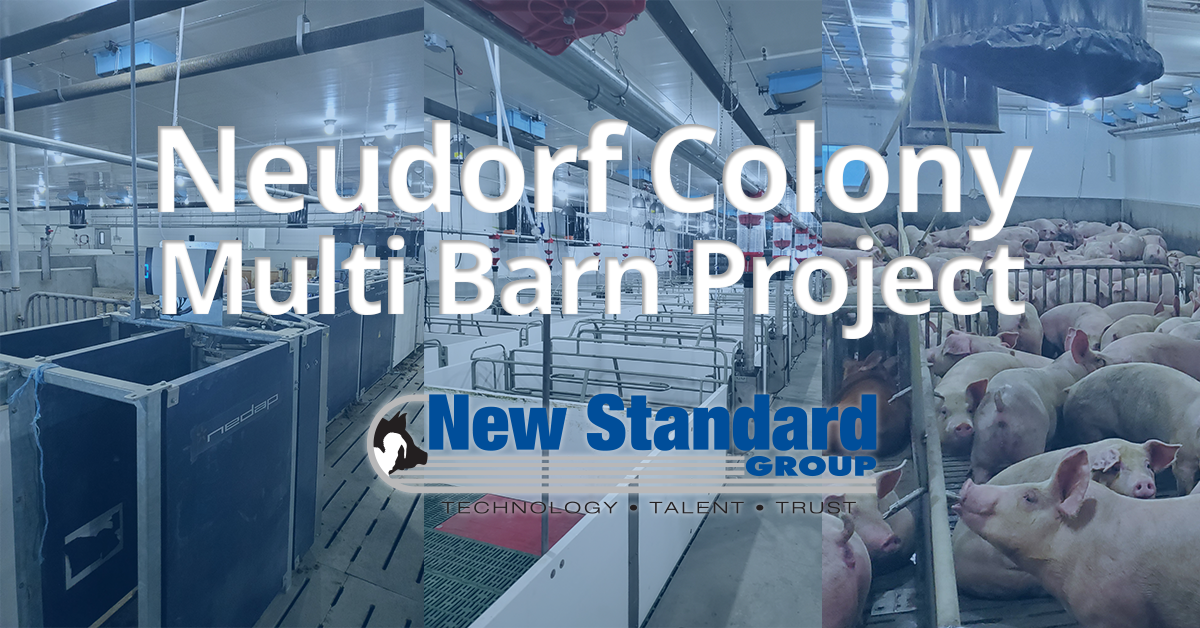 A completely new hog production facility upgrade has spanned the last four years on the Neudorf Colony in Crossfield, Alberta, Canada. "Kase from New Standard West has been great. From the first meeting, he heard what we were looking for and created a drawing that would meet our needs as well as creating a system that would help in achieving results," says Jerry, second hog manager at Neudorf Colony. The following case study outlines the project and what services and equipment New Standard Group provided in the barn build and construction and support and system implementation after the build.
Project Timeframe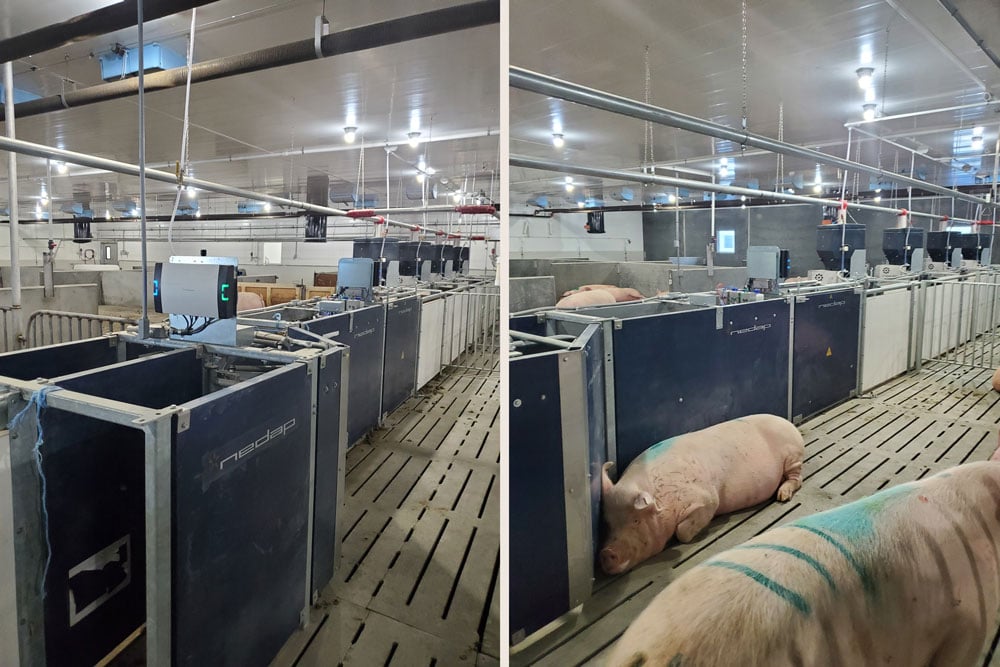 Initial project conversations began in February of 2016. Concepts and drawings were discussed and finalized with construction, starting with the new Finisher/Grower barn in late 2016. Equipment for the Finisher barn was installed and set up in mid-2018.
The new sow barn construction started in late 2019, with equipment and finalizing in mid-2020. Sows moved over to the new barn in late 2020, early 2021.
You may notice the larger gaps in time. The new sow barn was built where the old sow barn was located. To stay in production, the Colony first built the new finishing barn, then demoed the old finishing barn to make room for the new sow barn. With this plan, they were able to keep production going with less time pressure from the construction process.
Barn Overviews
The barns house 400 sows from farrow to finish within two barns. The steel penning and crates were all manufactured by Neudorf Colony on site.
The Finisher/Grower Barn is 165'x300' and includes the following equipment. 7 Bold 3way scales, Microfan Ventilation, EMI Fans, BOLD Inlets (ventilation equipment all supplied by New Stanard Group), Auger with wet/dry feeding system, and PanelTim Paneling. All installation and setup with managed by Neudorf with technical assistance from New Standard West.
The Farrowing Barn is 151'x300' and includes the following equipment for a loose sow housing setup with electronic sow feeding equipment. 11 Nedap Feed stations, three separation units, three sow weighers, three heat detectors. Microfan ventilation with EMI Fans, BOLD inlets again, all ventilation equipment was supplied by New Standard Group. The barn also includes a Chaindisk Feeding system, MIK flooring in the nursery and farrowing rooms, along with PanelTim paneling.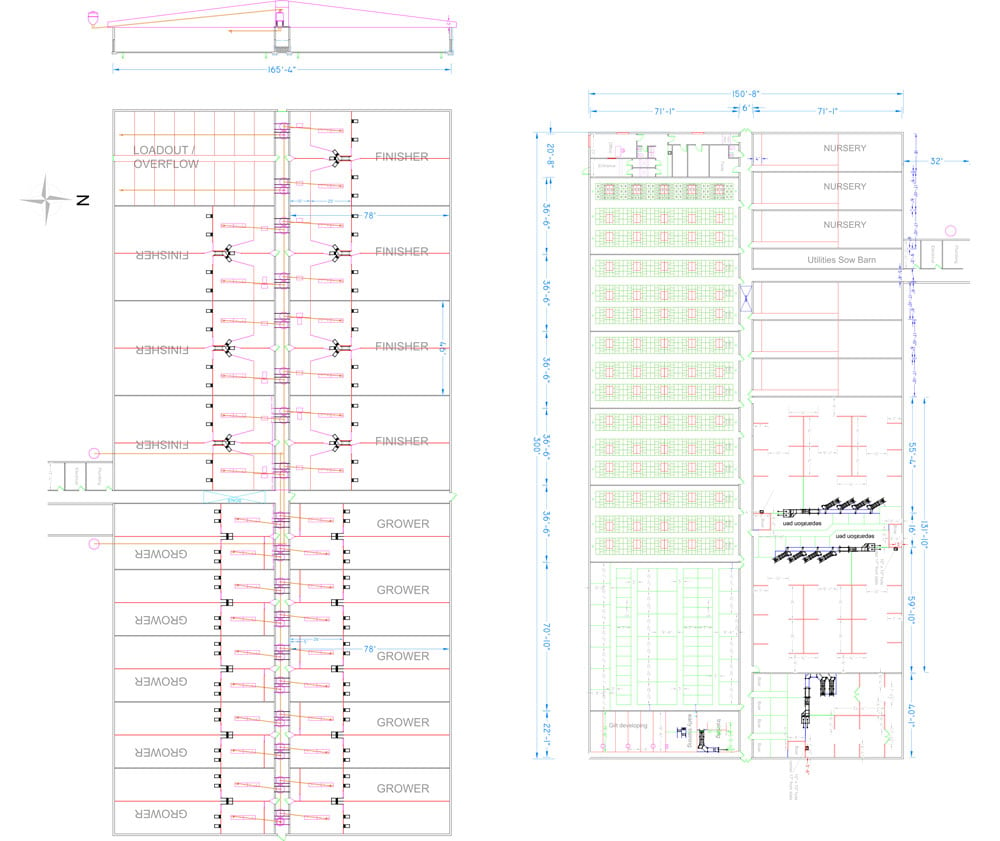 Challenges & Results
The new barn and operations have been fully up and running for about a year now. "Learning the new system and training the animals to the new system has had some challenges. Everyone, handlers to animals, had to adjust to the new plan. Once we completed that initial challenge, things have become much easier." comments Jerry.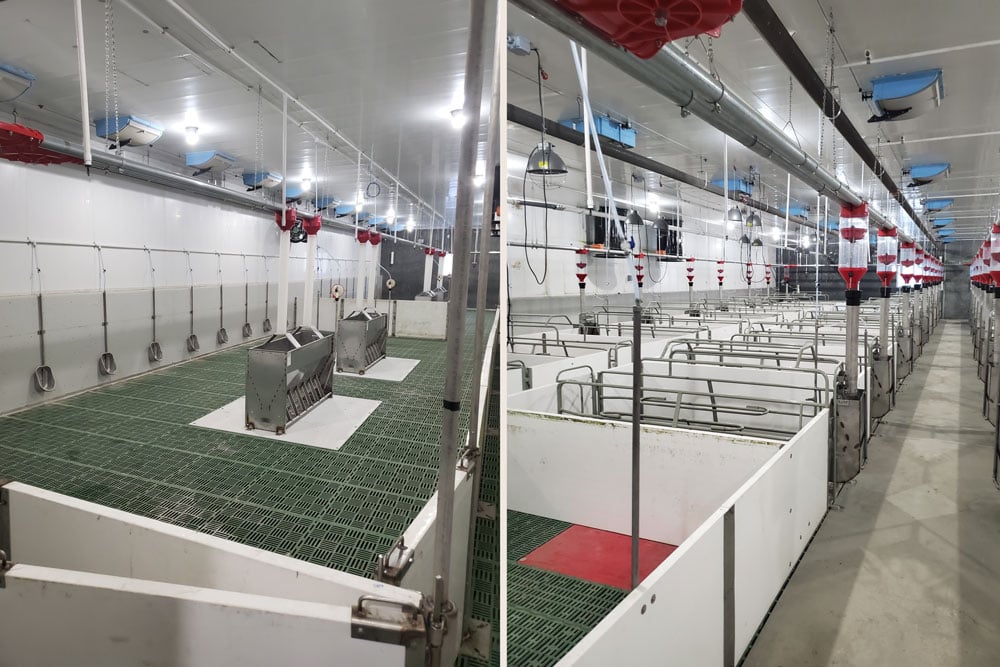 Working With New Standard West
"New Standard has been great at supporting the new system. From supplying equipment in a timely fashion, having parts on hand, and doing online support and phone support, they have been excellent." praised the Barn Manager.
New Standard West was honored to be a part of this great project and partnership with Neudorf Colony. When it comes to hog and poultry housing and barn solutions, look no further than New Standard Group.
---