It's the time of year when comfort food is king. We bring out all the classics for the holidays—turkey, ham, mashed potatoes and gravy, and treats like sugar cookies and pie.
But sometimes it's nice to spice things up with a slightly different take on comfort food.
We reached out to Maaike Campbell of Birnam Pork for a favorite holiday pork recipe, and she delivered. Plus, she happens to be on the cover of our latest issue of the Modern Producer!Worstenbroodjes—say that 10 times fast—are a traditional Dutch item, and while they're technically a Christmas dish, we wouldn't mind having these tasty homemade pork sausages on hand year-round.
Worstenbroodjes
From the kitchen of Maaike Campbell
INGREDIENTS
For the rolls
½ cup milk

¼ cup sugar

2 teaspoons salt

3 tablespoons butter

2 ½ tablespoons yeast

1 ½ cups warm water (105°F to 115°F)

5 – 6 cups flour
For the filling
2 lbs half and half (half ground pork and half ground beef)

1 package of meatloaf seasoning (2 packages gehakt mix if using it from a Dutch store)

¼ cup bread crumbs

1/8 teaspoon nutmeg (not needed if using gehakt mix)

Pinch of ground mace (not needed if using gehakt mix)

2 eggs
For egg wash
1 egg

2 tablespoons water
DIRECTIONS
Place milk, sugar, salt and butter in small saucepan. Heat over low heat until butter melts and sugar dissolves. Cool to lukewarm.
Dissolve yeast in warm water in warmed mixer bowl (fill with hot tap water when starting to get ready to make the bread. Dump out when ready to use the bowl). Add lukewarm milk mixture and 4 ½ cups flour. Attach bowl and dough hook to mixer. Turn to speed 2 and mix about 1 minute.
Continuing on Speed 2, add remaining flour, ½ cup at a time, and mix until dough clings to hook and cleans sides of bowl, about 2 minutes. Knead on Speed 2 about 2 minutes longer, or until dough is smooth and elastic. Dough will be slightly sticky to touch.
Place dough in greased bowl, turning to great top. Cover with damp towel. Let rise in warm place, free from draft, about 15 minutes, or until doubled in bulk.
In the meantime, mix the ground meat with the spices, the breadcrumbs and the eggs (you can use the bowl and flat beater for this). Cut off 2 oz. portions and roll into a small ball (I use a large ice cream scoop and divide those in half). Set aside while you do the rest. When they are all divided into 2 oz. portions, carefully roll each ball out into a sausage shape, about 5 inches long. Cover as you don't want them to dry out.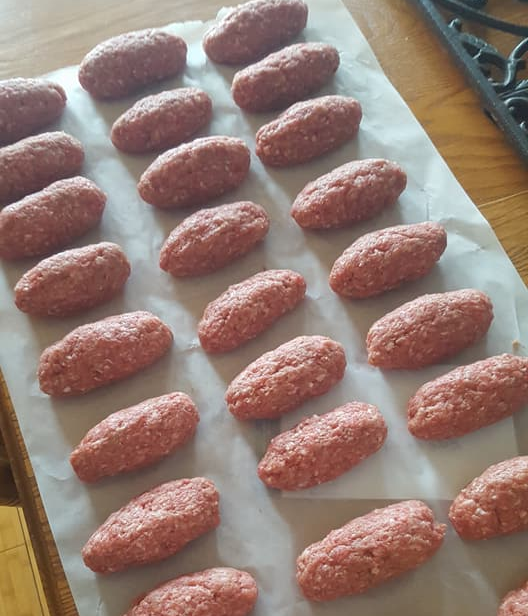 Now divide the dough into two, and with a rolling pin roll the dough into elongated oval, slightly larger than five inches long. Place one sausage on top, fold over the short edges, pull over the long edge and carefully roll the sausage into the dough, pinching the seam.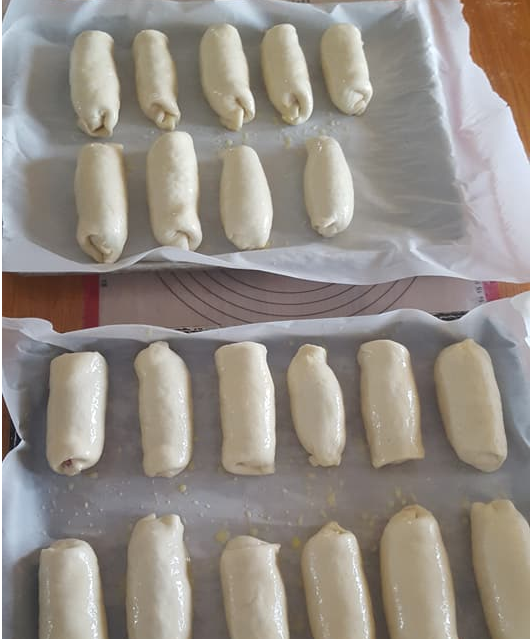 Place each sausage roll on some parchment paper on a baking sheet. Cover. Let rise in a slightly warm oven (90

°

F) about 15 minutes.
Preheat oven to 425°F. Brush the sausage rolls with the egg wash and bake for approximately 15 minutes or until golden brown.
Enjoy!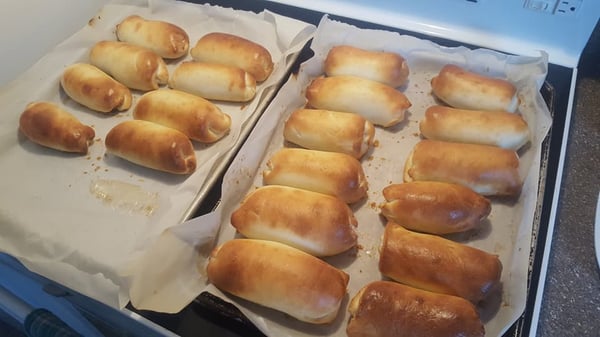 If you tried out Maaike's recipe, we encourage you to let us know in the comments. We'd love to hear from you!
---
Interested in more pork-centric recipes for the holiday season? Try out chocolate-covered bacon. Come on, you know you want to.