The seasons are changing and cold nights are hear. With the cool fall weather comes hearty meals and big appetites. Whether you are looking to cook up your wild turkey this hunting season or are just looking for a way to jazz up some turkey breast, Chef John Noel Gilbertson has a sweet and salty recipe that is sure to please. Turkey coated in pretzels and honey? Sounds like a great dish to cook up for the family this week!
Pretzel-Breaded (Wild) Turkey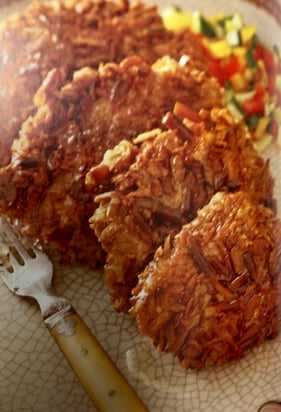 1 cup (125g) flour
4 eggs, beaten
1 cup (235 ml) chopped pretzels
1 pound (450 g) wild or store-bought turkey breast, sliced about 1/4-inch (6.3 mm) thick
1 tablespoon (15 ml) vegetable oil
Salt and pepper
1 tablespoon (14 g) butter
1 tablespoon (15 ml) honey
Put flour, eggs, and chopped pretzels in separate bowls. First, coat the turkey slices in flour, then the egg, and finally the pretzels. Heat oil and butter in 12-inch (30 cm) frying pan. Gently place breaded turkey slices in pan. Reduce heat to low. Cook about 2 minutes on each side, until golden brown.
Remove from pan, drain on paper towels, and season with salt and pepper. Garnish with thin streams of honey and serve immediately.
Recipe by:
Chef John Noel Gilbertson, CEC
Chef Manager


---