Spring is on the horizon, and it's time to bring the grill back out of hibernation! Go ahead take off the tarp, and invite your neighbors and friends over for a fun and relaxing afternoon or evening on the patio. As we enter the warm weekend, we want to bring you the perfect grilled pork chop recipe to celebrate the spring weather.
Chef John Noel Gilbertson has provided us with a recipe for rustic pork chops that is sure to please. These rustic grilled pork chops don't require much prep, making it the perfect recipe to start your grilling season off right. Plus, Chef Gilbertson has included a recipe for apple chutney that will partner beautifully with your rustic chops.


---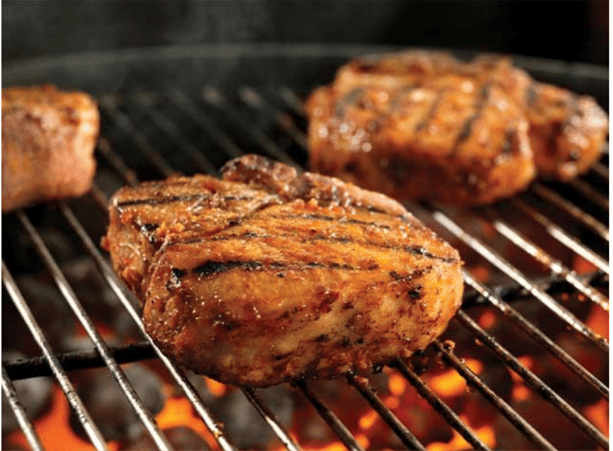 Rustic Grilled Pork Chops with Apple Chutney*
4 each bone in or boneless Pork Chop, 8-10 oz each
1 large onion julienned
2 peeled and diced "tart" apples
2 T salad oil
1⁄4 tsp cinnamon
1 T fresh ginger, grated
1/2 cup apple juice
1/2 cup chicken or beef broth (clear) Salt and coarse ground pepper
2 T Fresh Garlic, chopped
Apple
"
C
hutney"
In a 10-14' sauté pan, cook onion in 1 T salad oil over low-medium heat 5-6 minutes or until walnut brown. Remove onions from pan (set aside) reheating pan, sear apples then replace onions in pan and add juice, broth and spices. Cook all remaining ingredients at a low simmer for 10-12 minutes, reserve.


Chops
Prepare a grill to medium-high heat (about 450 degrees F). Rub chops with salad oil, garlic, salt and pepper. Grill chops over direct heat until the internal temperature reaches 140 degrees F using a meat thermometer. Remove chops from the grill and let rest for 1-3 minutes. Serve with Apple Chutney.


Chutney*
American and European-style chutneys are usually fruit, vinegar, and sugar cooked down to a reduction, with added flavorings. They were a way to use a glut of fall fruit and preserving techniques were similar to sweet fruit preserves using approximately an equal weight of fruit and sugar, the vinegar and sugar acting as preservatives.
Recipe by:
Chef John Noel Gilbertson, CEC
Chef Manager

---

As consumer trends are changing, it is becoming ever more important that end consumers know where their meat is coming from. Marketing pressures are forcing the industry to be more transparent and evolve their processes. Producers are transitioning their processes and hog barn designs to be proactive about future demands, trends, and regulations. At New Standard, we believe it is important to stay in front of these forces. We design and supply group sow housing barns that are equipped with the latest technology and modern design that not only improve animal welfare and therefore production, but also add more to your bottom line.


---
We would love to talk with you about our hog barn design strategies and how they create a better environment for the pigs while also improving efficiency in production. If you are interested in learning more, please click the button below!