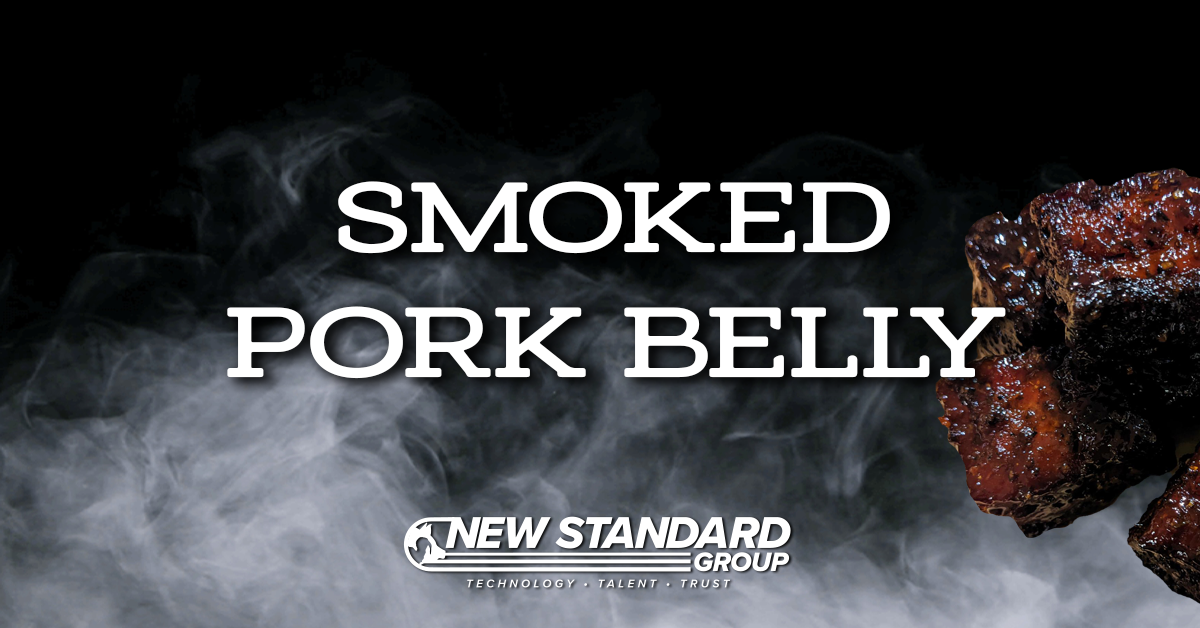 Summer is here and it's time to get together and enjoy some great BBQ. Your family and friends are going to love you for making this.
---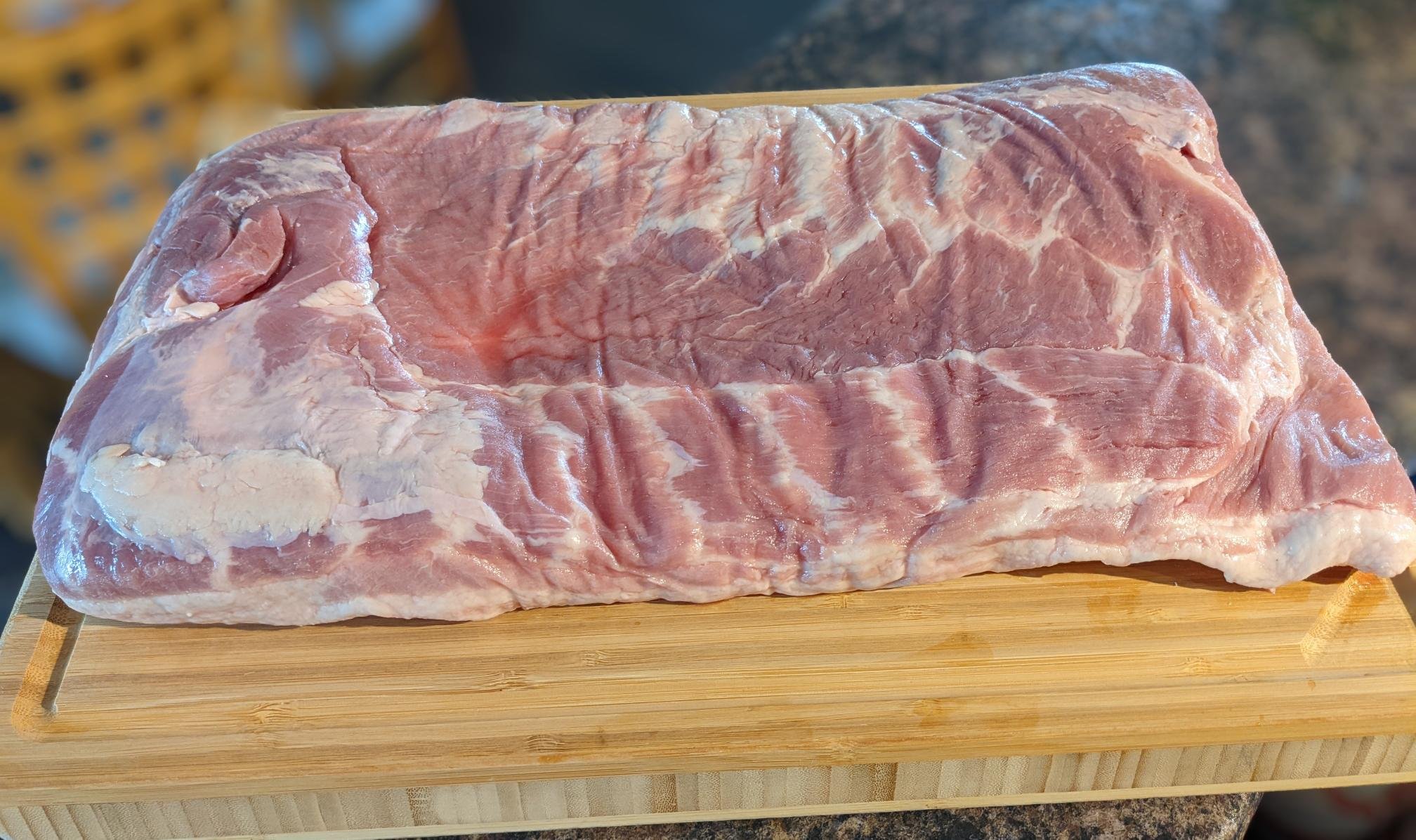 Start with a piece of pork belly. We used a 7lb piece for this cook. If it comes with the skin, remove it.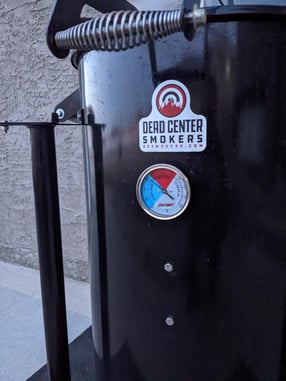 Set your smoker at 250F. We used a charcoal smoker from Dead Center Smokers, a Manitoba company that builds drum smokers. You can use any kind of smoker. For this cook we added a couple of Hickory and Pecan wood chunks along with 1/2 an onion for additional flavor.
Cube the pork belly into about 1.5" by 1.5" sized pieces. Although they look big, they will shrink throughout the smoking process.
In a large mixing bowl, add as many cubes as will fit without overlapping them, so you will get good coverage with the rubs. Depending on the size of your mixing bowl, you might have to repeat this step.
The seasonings used in this cook are from Toma-Hack BBQ, a Manitoba company. For the first layer we used Just Give'r Savory Rub.
Evenly sprinkle the rub over all sides of the pieces. Set those aside and repeat this process until all pieces received the first layer of seasoning.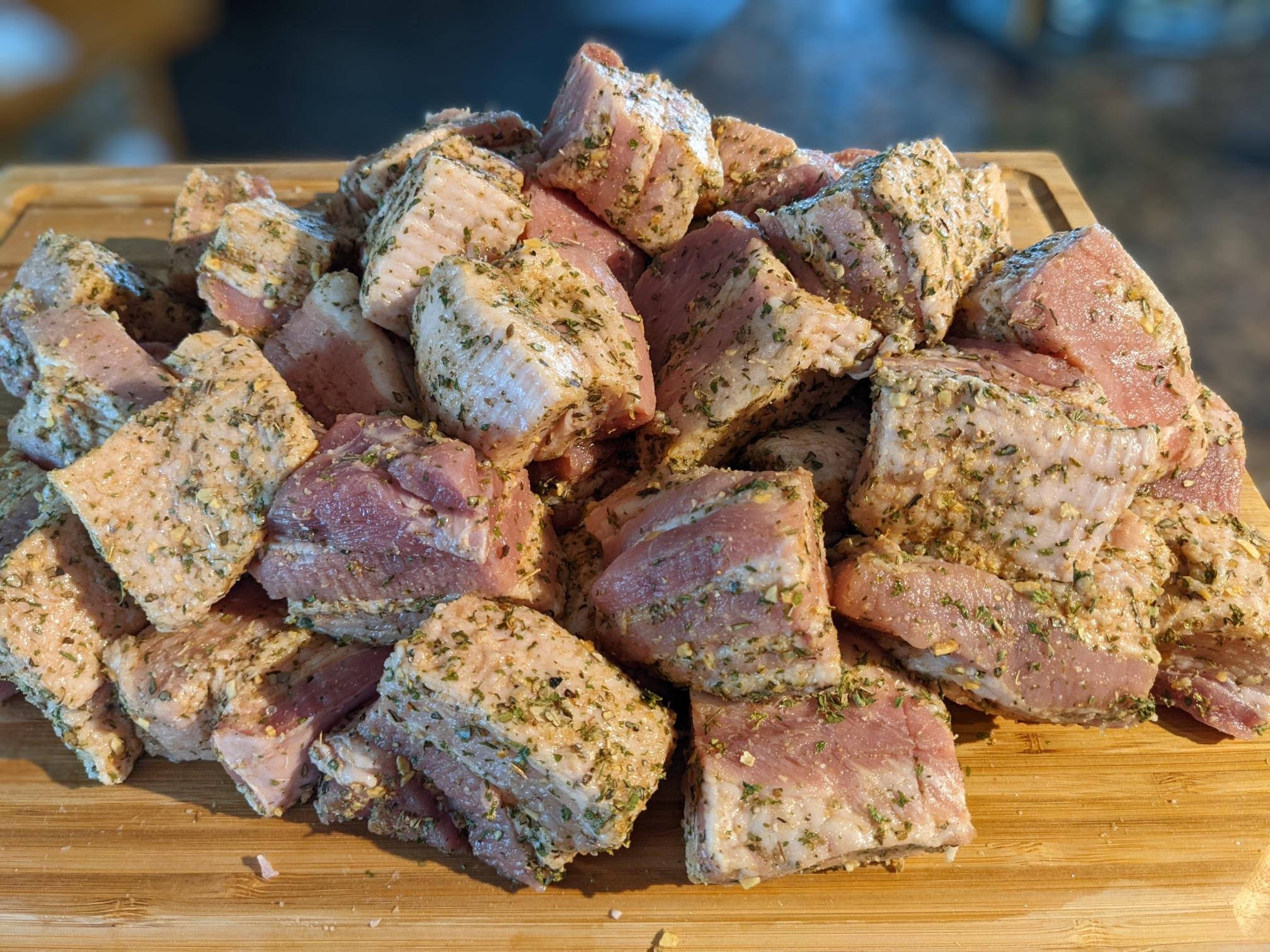 Wait for 15 minutes.
For the second layer, we used Eh Sweet Heat Rub. This rub adds some good flavor and color to your burnt ends. Repeat the seasoning process done for the first layer.
Place all the pieces onto baking cooling racks. Trust me, these racks will make your life much easier.
Smoke for 3 hours.
Put all pieces into a foil pan. Sprinkle 1 cup of brown sugar and 1 Tbsp of maple syrup, or honey, on top of the pieces. Add 1.5 sticks of butter, sliced.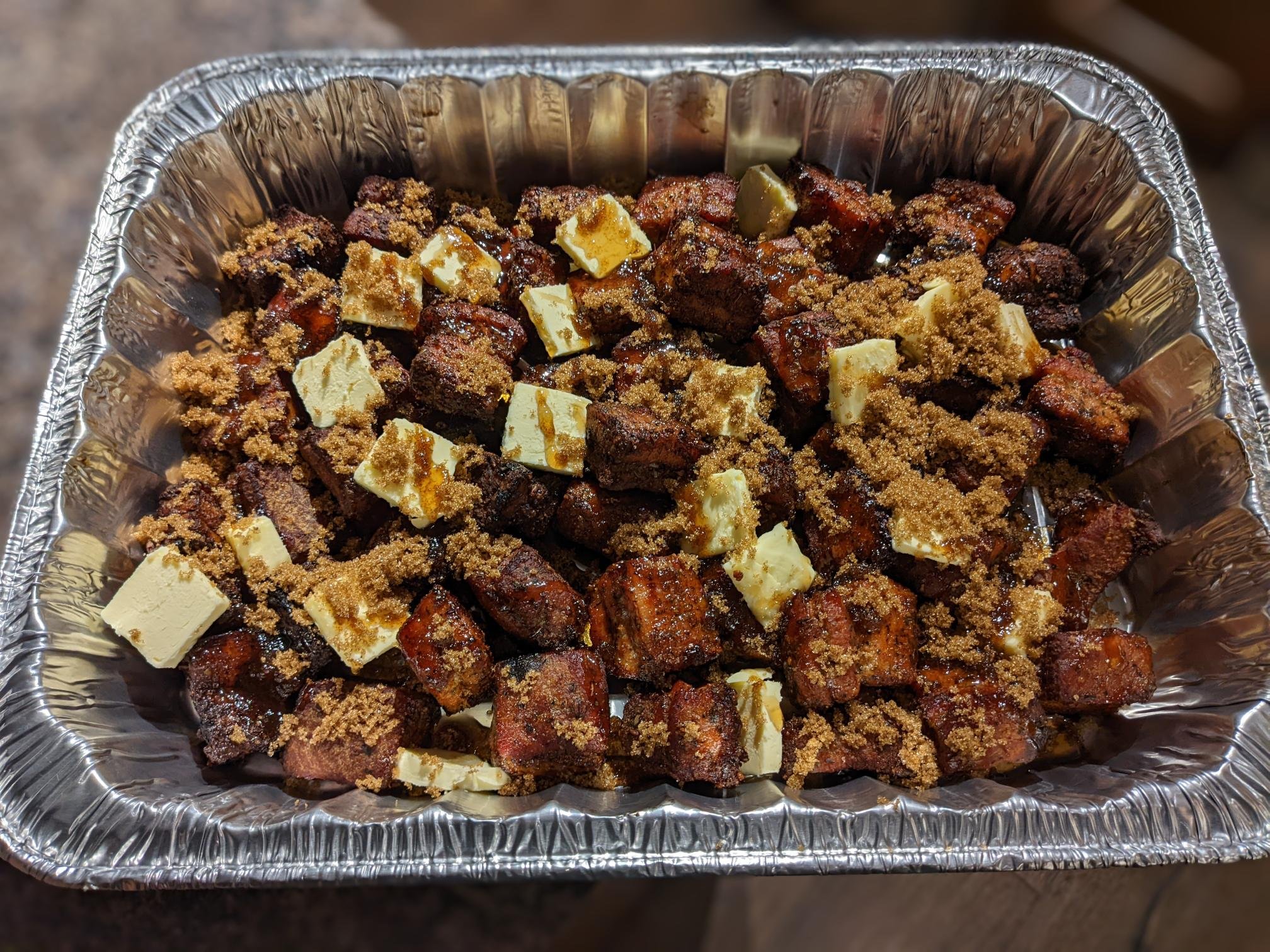 Cover the pan with tin foil and bring it back to the smoker. You can increase the temperature to 275F.
Smoke for 1.5 hours.
Drain the fat and add your favorite BBQ sauce to this dish. We used Bigg Smoak's Birds to Bones BBQ Sauce (another Manitoba product). Mix well for good coverage.
Leaving the pan uncovered, bring it back to the smoker for another 10-15 minutes. This will create a glaze. The pieces will be tender and sticky.
Pull from the smoker and let rest for 15 minutes.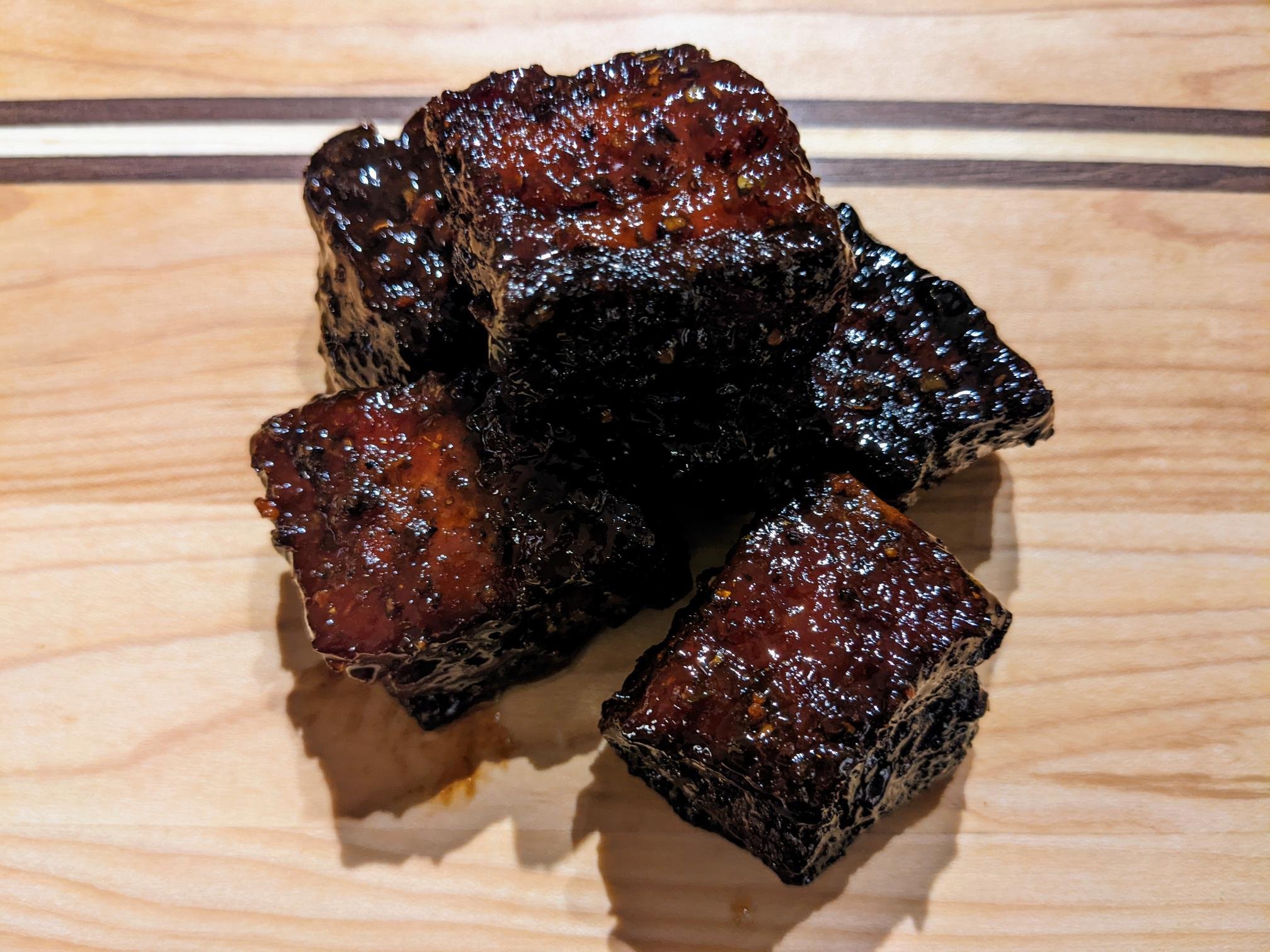 Serve the pieces warm and enjoy!
Products Used:
Dead Center Smokers (DCsmokers.com)
Toma-Hack rubs (tomahackbbq.ca)
Bigg Smoak BBQ Sauce (biggsmoakbbq.ca)
The rubs and sauce can be purchased at Luxe BBQ store locations (luxebbq.ca)
---
This recipe first appeared in the Modern Producer Summer 2022 Edition! To see the whole magazine or subscribe to future issues click the image below!