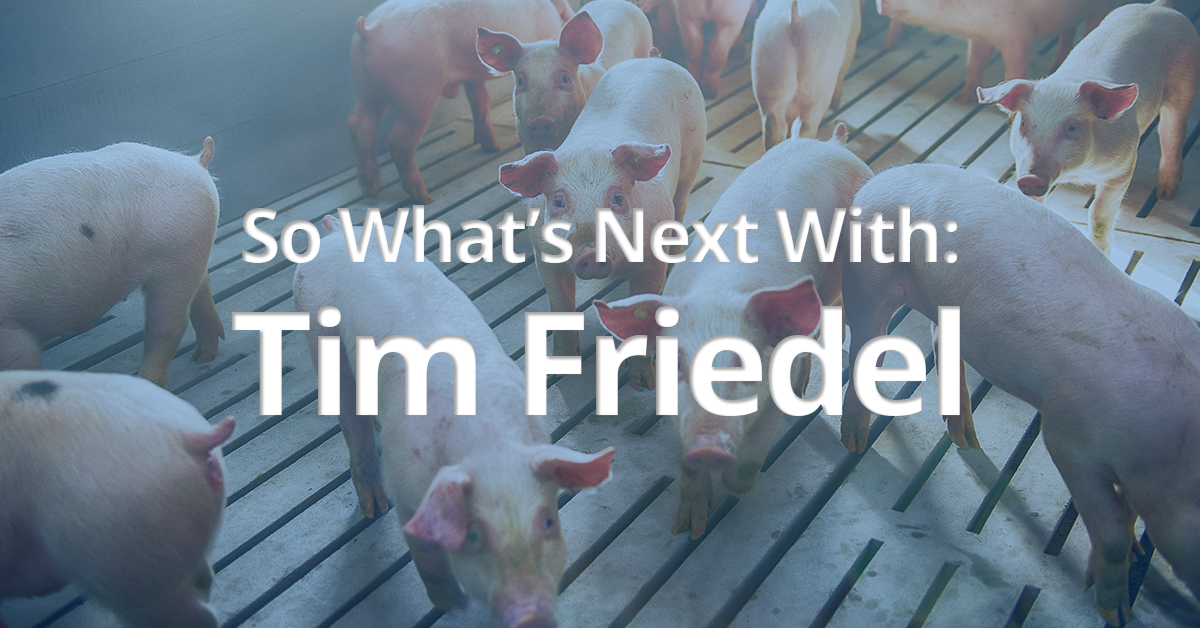 The New Standard team is all about the advancement of taking care of our animals in this industry. So are quite a few of our producers we come across in this field. Over the course of our time as a company, we were always curious what the future of farming could be. We sat down with a handful of producers to ask just that. What they enjoy currently, and what, realistically or not, would they like to see in the next 10 years for the advancement of farming.
You have read all about Hunter Thomas, Chet Mogler viewpoints, now it's time for Tim Friedel.
Tim Friedel
Previous General Manager of Thomas Livestock


Q: How long have you been in the industry?
A: I have been in the industry for 45 years, overseeing production at Thomas Livestock for the past 15 years. I am currently semi-retired working 3 days a week.
Q: How has technology changed the way barns operate today?
A: We have 4 sow farms
1st- 5,000 sows small pen group housing, this is an older system over 20 years old
2nd- 5,000 sows retro from stalls to Nedap 4 years ago
3rd- 5,500 sows built with the Nedap system about 8 years ago.
4th- 5,500 sows built with the Nedap system about 4 years ago.
When we were looking into building our 3rd sow farm, we contacted New Standard and toured a couple of systems they had built with the large pen concept using Nedap Equipment. We were very pleased with what we saw. The animals seemed to be very content and thriving in their environment. The stress level appeared to be very low; sows showed very little signs of aggressive behaviour towards each other. Also, the production records at these farms were excellent verifying the fact that a (happy sow is a productive sow). Other things we noticed were the air quality seemed better, less dust and noise level was much lower than what we were used to in our barns. This would be better for the animals and our workers. We decided to go ahead with a new large pen Nedap System though New Standard knowing we would have to pay a little more. We felt the reduction of stress would pay off in the long-term with higher production helping to offset the cost.
Q:

Where do you see things in the next 10 years?
A: I understand that as an industry we will continue to do more towards animal welfare and the welfare of our employees. However, the problem going forward will be regulations that don't make sense, such as the California Proposition 12 which would be a step backwards as far as animal welfare is concerned.
Weaning sows into pens is a disaster with sows fighting and crippling each other at a time when they are under stress from weaning anyway. Also Prop.12 would require penning of sows right before and right after breeding, this means sows would be put in pens while in heat cycle, causing more stress from mounting other sows which can cause injury and reduced breeding results. The key to success and better welfare of the sow is less stress not more.
Our New Standard large pen concept with Nedap electronics has allowed us to be very successful from a production standpoint. Our production numbers from these systems are some of the best in the world today.
Opportunities for camera technology going forward are endless. We in animal agriculture are just beginning to understand what it will be able to do to help us monitor our animals better. Cameras will be able to identify individual animals in pens that may be too fat or too thin, sending this information to the Nedap system automatically could increase or decrease the amount of feed every individual sow would get at all times throughout the sow's gestation period. This would potentially allow us to control all sows to ideal weight at farrowing without any additional labor. In addition, cameras could help locate sick or lame sows that may need attention. We could monitor sow behavior to help us understand when we need to change the way we perform a task to help reduce stress on the sows. Cameras could also help define areas where we could improve the tasks our employees do to be safer or more efficient. I believe by having the Nedap System we will be able to transition to using newer technology in the future.
Q: What thing would you want, realistically or not, in the future for producers?
A: Profit, haha.
In all honesty, the Sow System and the technology that is already installed needs to be feasible. ID animals, seeing the conditions of the animal all the way through the weaning. Technology that can automatically be programmed to get the sow to the ideal weight from gestation on through would be ideal. A good system has at least 10 percent or more sows going into farrowing being overweight or underweight. We are getting closer to honing in on getting sows to ideal weight.
I believe technology will adapt to New Standard's installation of the Nedap system. This system is easier than any other type of system.
---